The American tradition of seasoning burgers, salads and meat dishes with sauces goes beyond the world famous recipes of ketchup, mustard and mayonnaise. The American traditional sauceshave much more to offer than these three world-wide known products.
Since these sauces can be added to a dish as they were a dress, they are also called "dressing" and they enhance the food's flavor, giving it that little extra that sometimes makes a difference.
Among the most famous we can mention: the BBQ sauce, that was created to flavor the grilled meat, a cooking technique typical of the USA that has become popular worldwide, or the Caesar's salad dressing, meant to dress the famous Caesar's Salad, made with chicken and toasted bread. However, the American tradition includes many tasty and unique sauces.
Fine Food Group specialties of the American cuisine
The American cuisine and its specialties are some of Fine Food Group's strengths, along with Mexican traditional food, Tex-Mex dishes and the ethnic and fusion cuisine.
In the Fine Food Group's catalogue there are two sections dedicated to sauces, which completes the American style offer, along with a wide hamburger selection, meat specialties, a large number of appetizers and a whole category dedicated to American Potatoes.
In the Dressing section there are sauces from all over the world: the delicious Mexican sauces by La Costeña and other companies, or the Asian cuisine specialties. However, the most important role is played by the many formats of the American sauces. In the Table Sauce category, you can find table, sachets and Topdown squeeze bottles sauces.
A special section of the Dressing category is dedicated to the Fine Food Group's sauces production, that renews the classic selection of American dressings. It is the Cannery Row, the American sauces by definition.
Cannery Row, the name of the American tradition
It was 1945 when the American author John Steinbeck published his novel "Cannery Row", "Vicolo Cannery" in the Italian translation. Many years later, in 1982, a successful film version was released.
The aim of this book was to portray the lives of sardines' cannery factories workers, in the homonymous road the book is named after in Monterey, California. The author wrote other masterpieces like "Of Mice and Men", "Sweet Thursday", "The Grapes of Wrath", "East of Eden", that have inspired many film adaptations.
Cannery Row is the symbol of a social class of workers, that has characterized American people. Today Cannery Row has become an actual place tourists' pilgrimage place.
Due to its iconographic style and its important story, we think that Cannery Row represents the perfect name for our line of traditional American sauces, that Fine Food Group produces in partnership with Ventura Foods, one of the most important Americansauces companies.
The Cannery Row line currently consists of 8 specialties. It is a wide and complete selection, and it may even grow more.
We will present them one by one!
Cannery Row American sauces
The 8 Cannery Row sauces include the most typical American dressing. They are:
Deluxe BBQ Sauce
Caesar Salad Sauce
Blue Cheese Dressing
1000 Island Dressing
Ranch Dressing
Aged Cheddar Cheese Sauce
Lemon & Herb peri peri Sauce
Honey & Mustard Dressing
Let's get to know them!
Deluxe BBQ Sauce
The BBQ sauce may be one of the most famous American dressings. It is well-known as the barbecue itself, which is the typical outdoor grill cooking technique, that we got to know at least in movies and books that praise it. This sauce is the perfect seasoning for grilled meat, from the world- famous ribs to steaks. It is a dark red thick sauce, with a sweet-and-sour and smoked taste.
Its ingredients are: tomato paste -the main ingredient-, garlic, onion, molasses, sugar, vinegar, mustard and chili peppers.
You can find the Cannery Row Deluxe BBQ Sauce in 3.78 liters' gallons and in the handy upside down squeeze bottles to serve it at the table.
Caesar Salad Sauce
A sauce not fully American, since its roots have something to do with Italy: it was the dressing of the Italian chef Cesare Cardini's dish. The recipe, named after him, is made with some typically Italian ingredients, like parmesan and cos lettuce, along with chicken and toasted bread. However, this dish became famous firstly in Mexico and then in California. Beside parmesan, the dressing ofthis dish contains anchovy paste, that gives it a unique flavor.
The Cannery Row Caesar Salad Sauce does not contain eggs, that can be found in some of the recipes, so it appears light and even egg allergic people can enjoy it.
Blue Cheese Dressing
Even this sauce has something to do with Italy, since it is made with blue cheese, a particular kind of Gorgonzola cheese. It contains: Blue cheese – of course – vinegar, egg yolk, and sour cream. Americans and English speaking people in general really love this sauce.
It can be used to season barbecued meat, especially Buffalo chicken wings, and it is great with chicken meat, salads and fried appetizers like Onion rings, that can be perfectly dipped in it.
The Cannery Row Blue Cheese Dressing is available in 3.78 liters' gallons.
1000 Island Dressing
This sauce is well-know and appreciated in the US, but it is less famous in our country. It is named after a homonymous archipelago of small islands between USA and Canada.
The sauce was reportedly invented by the chef of a famous billionaire, the owner of one of the islands, that, apparently, belong to rich and eccentric people. Since he was also the owner of the famous Waldorf-Astoria hotel, once he had tasted and appreciated the extemporary recipe, he spread it to all the kitchens of his hotels, making it internationally famous.
The Thousand Island resembles the Cocktail sauce, with its delicate rosy color due to the tomatoes, and in its recipe the exotic flavor of spices, cucumber, celery and vinegar blend together. It goes perfectly with fish dishes and fried appetizers, and it is delicious with salads and vegetables.
The Cannery Row 1000 Island is available in 3.78 liters' gallons.
Ranch Dressing
This name takes us immediately to the Far West endless prairies, among buffalos' and wild horses' herds. The Ranch Dressing is surely the most representative of the American spiritamong the "Cannery Row" sauces. It has proletarian origins, since it was invented by a factory worker from Nebraska in the 50's, to season every kind of food, giving a peculiar and rich flavor even to the poorest dishes. The creation of Steven Henson – the plumber who invented it – was so successful that he was able to buy a ranch in California: that's the reason for the sauce's name.
It is made of buttermilk, mayonnaise, garlic, onion, black pepper and herbs like thyme and parsley. The Ranch dressing is a condiment that can actually go well with every meat, fish, vegetable dish and with fried food.
The Cannery Row Ranch Dressing, as well, is available in 3.78 liters' gallons.
Aged Cheddar Cheese Sauce
It is time to describe a sauce that is so famous that even the people who don't know its name must have tried it at least once, maybe in a fast food's burger.
Cheddar is a yellow cheese with a strong flavor and it is often used in cheeseburger recipes.
The Cheddar Cheese Sauce is made with the original Cheddar, a British cheese, originally from the homonymous village in Somerset and later exported to the US, where it has become typical.
The sauce has a strong flavor with a thick and creamy texture, it is suitable for cooking many dishes, melting and giving them a unique flavor.
Cheddar Cheese sauce can be easily recognized in burgers due to its golden-yellow color that melts on the hamburger.
It is often used in Tex-Mex recipes like burritos or nachos.
The Cannery Row Aged Cheese sauce is available in 2.72 liters' jars.
Lemon & Herb Peri Peri Sauce
Here it is a very peculiar sauce, that blends the intense lemon flavor blends with Peri-Peri (also called Piri-Piri), an extremely hot African chili pepper. It is also known as Bird Eye and it may be the smallest chili pepper in the world. However, its spiciness does not match its size, since it is very spicy (it reaches a degree between 99.5 and 112.2 in the SHU – Scoville Heat Unit, measurement scale of the chili peppers' spiciness).
The recipe also contains garlic, onions, and parsley. It is a light red sauce, perfect to marinate both red and white meat. It gives a nice sour and spicy taste to the food.
The Cannery Row Lemon & Herb Peri Peri Sauce is available in 2.27 liters' bottles.
Honey & Mustard Dressing
The Honey & Mustard Dressing in made with honey mustard. It is an English recipe but it has found its home in the US, where it is used as dressing for fried chicken and fried fish, or it can be combined with many typical appetizers like Onion rings.
This dressing is made with the well-known Dijon mustard and with high-quality honey, along with egg yolk, vinegar and some delicious spices like cinnamon.
The Honey & Mustard Dressing is very creamy and tasty, although it is a very simple recipe to replicate- it's easy to make a home-made version-. It is one of the most appreciated sauces in the US.
In the Fine Food Group catalogue the Cannery Row honey & Mustard Dressing can be found in 2.27 liters' bottles.
An overview of American sauces like a walk along the California Coastline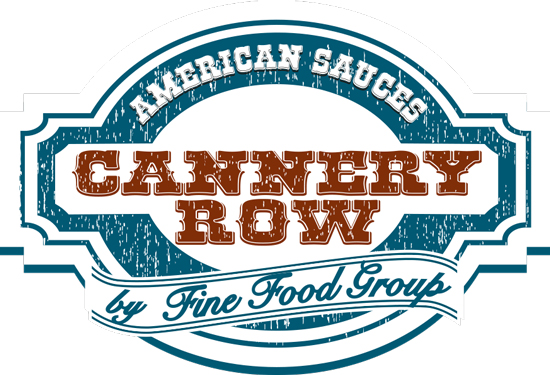 Our Cannery Row sauces selection is extraordinary thanks to its variety, its high-quality, its peculiarity and its excellent performance.
With their origin imprinted in their distinctive logo, the Cannery Row can bring the flavor of true US cuisine to your food.
Enjoy your walk along the Monterey coast, California, with our Cannery Row American Sauces!